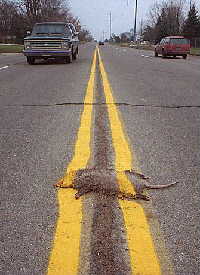 Okay, it's not a rat; but it is a critter (thanks to Ken S. for pointing out that it's a marsupial, not a rodent [duh]), and the Possum King would approve. I received this photo under the heading, "not my job." Jim Hill of Bay Minette, AL, says "I first saw this photo in the Mobile Press-Register a couple of years ago. The newspaper also cleverly printed t-shirts with the armadillo logo and the caption: 'Damn the armadilloes--full speed ahead!'" (I still think it's a possum.) If you know of an earlier sighting of this photo, please let me know.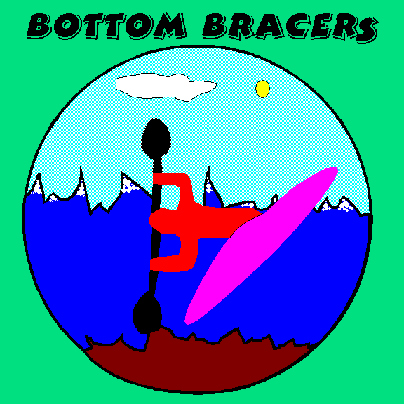 A shake of the Ratt Tail to Keith Gross for this design.
Kewl Lynx
Paddling Pages in the Ratt Hole:
RattBoy's Hall of Shame
(Now with pictures!)
The Millennial Hall of Shame

The Annual Ohiopyle Falls Festival
(Okay; it's not part of the Ratt Hole, butt since your intrepid reporter is its webmaster, we oughta link it prominently.)

New! Cheat and Upper Yough, July 2012!

Recon Ron and Sue get married!!
Non-paddling Pages in the Ratt Hole:

New!! Ratt Boy's Click of the Week! (Updated 6/1/12)

Ratt Boy's Virus Hoax Resource

Comments about this site? Then email me! Please include your credit card number, expiration date, and name as it appears on the card. Information will be used for verification and acquisitive purposes only. Please be assured that the information will NOT be used to acquire cheaply made paddling equipment, nor will the information be sold to anyone offering less than market value. Concerned about privacy and security? We got yer encryption technology right here, buddy.